How to Hang a Hammock
Quick guide on hanging a hammock!
One of the things we love about hammocks is how versatile they are. We usually think of hammocks hanging under the tree in the backyard. And it's true, they are the perfect place to relax outside, and many people are even using hammocks for camping instead of tents. However, hammocks can also be used in the house.
Now, wherever it is you want to use your hammock, you want to make sure it is safe and secure. And the key to this is knowing how to correctly hang a hammock from anywhere. Most hammocks will come with some kind of instructions and hanging gear, but this guide will show you some basics and details of hanging a hammock In your house as well as outside.
In this guide we will show you:
How to hang a hammock indoors
How to hang a hammock outdoors
How to hang a hammock chair indoors
How to hang a hammock chair outdoors
How to Hang a Hammock Indoors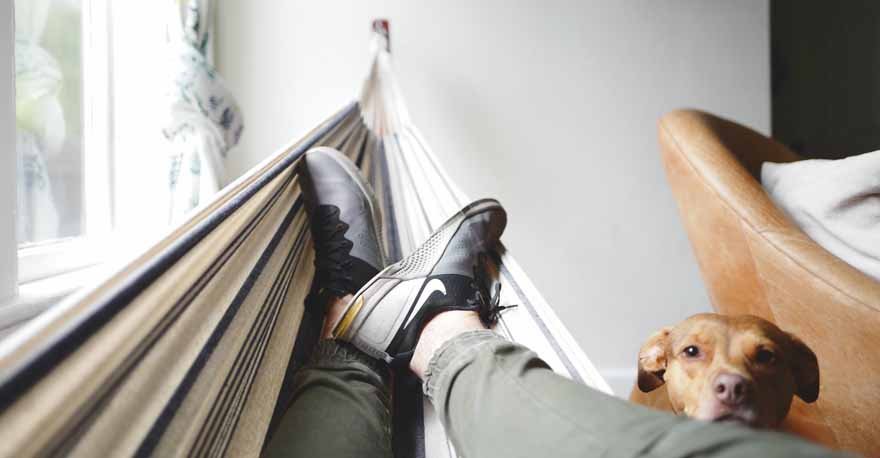 Hammocks are really great to have in the house. They are super comfortable to lay around in, read your favorite book in, or to watch TV from. What's really great is that a hammock can be a temporary furniture element because you can always take them off the anchor points if you need the space. This is what I do in my own bed room. Since my room is pretty small, I can't afford the space for something permanent like a sofa. So whenever I want to stretch out and read, I hang my hammock up in a few seconds and voila!
Hanging a hammock indoors is not difficult and anybody with some basic tools can do it. However, you obviously want to make sure that you hang your hammock is secure so that you don't take a fall while relaxing. Let's start with getting our materials together. Some hammocks will come with a hanging kit. If not, don't worry, you can find everything you need at a hardware store.
Check out our best backyard hammocks and buying guide!
The tools for hanging a hammock are:
Measuring tape

(not a requirement, but helpful)

Stud finder

(also not necessary but helps)

An electric drill and drill bits.
Your anchors

(the hardware you hang your hammock from)

Suspension

(attaches the hammock to the anchor, usually rope, straps or chain)

Hammock Hang Calculator

(not necessary but useful)
Step by step video on how to hang your hammock indoors:
Steps for hanging a hammock indoors
Find a suitable space. Usually need at least 9 feet between the anchors
Attach the anchors to the wall at calculated height
Hang the hammock from anchors using suspension straps, rope or chain
Get hammocking!
1) Find the perfect place in your house for your hammock.
You will need enough space between the anchor points to allow at least for the length of your hammock. 9 feet should be enough depending on the size of your hammock, but if your room is smaller than this, you could hang your hammock diagonally.
3) Find wall studs (or whatever you will attach anchor to).
Once you found the general area you need to find a solid element to attach the anchor hardware from. For most situations, this means you need to find a stud in your wall, or a structural equivalent.
4) Drill Hole and Attach the anchor
There are a number of anchor options available. One of the easiest is to get a kit shown on the right that includes eye hooks, S-hooks and a chain. However, if you're using just rope, they only hardware you will need is the anchor (an eye screw, or hook screw)
Using the correct drill bit, drill holes into the stud. Screw in the eye hook with your hand.
To make it easier to twist the eye screw in, you can add leverage by inserting a long rod, or stick (wooden spoon) through the eye, and twisting.
5) Hanging your hammock
Now you just hang your hammock at the desired height. If you used the kit above, you just attach the the chain to the hammock with the S-hook (or carabiner), and then attach the chain to the eye hook. The chain makes it easy to set different heights.
If you are comfortable with using rope or straps for the suspension instead of chain then all you really need are 2 eye hooks attached into the wall as above. Then just use rope or straps to attach the hammock to the eye hook. You can see some common rope knots and ties and strap ideas below where we show you how to hang your hammock around a tree.
Hardware you may need for hanging your hammock.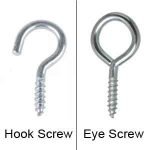 Hammock with Stand
If you don't want to mess with putting anchors in your walls, you could also get a hammock that comes with it's own stands. The benefit is that you can set this up anywhere, whether you put it inside your house or in the garden.
If this sound good, you can check out our extensive Buying guide and reviews of Hammocks With Stand. 
How to Hang a Hammock Outdoors (From Trees)

While hammocks are great to have in the house… nothing compares to swaying back-and-forth under the open sky or the tree canopy. If I can, I will pretty much always choose to spend some time in my backyard rather than inside. And more often than not, I end up spending my time on my favorite hammock between a couple of trees.
I also almost always take a lightweight hammock with me when I go to the park or the forest or basically anywhere. They are much smaller and easier to take with me then any other portable furniture.
And as long as I have enough rope with me, I can pretty much hang my hammock in any situation.
And of course, camping hammocks can be used instead of tents for backpacking trips. Both tents and hammocks have their benefits and drawbacks. What's nice about hammocks is that you don't have to worry about the terrain as long as you have trees to hang from. And there are some really great camping hammocks that allow you to lay in a fairly flat sleeping position. If you're interested check out our camping hammocks buying guide and reviews.
In short, for hanging a hammock outdoors, you basically just need some ropes or hammock straps. Hammock tree straps are recommended to minimize any damage to the tree trunks. However, I can confidently say that if you use ropes correctly on a big enough tree, you will not inflict any harm to the bark.
Things for hanging a hammock between trees:
Rope
Hammock Straps (recommended but optional)
Carabiners (optional, convenience)
Hammock Hang Calculator (not necessary but useful)
How to hang your hammock on trees (Step by step video using 2 different, really easy knots)
Steps for hanging a hammock indoors
Find a suitable place.

Usually need at least 9 feet between trees, depending on your hammock.

Find suitable trees that are big enough and will not damage
Hang hammock using your favorite rope knots / ties. (watch video)

I usually keep a bowline knot on my ropes at all times.
Then I use a becket hitch or some other easy/secure knot

Get hammocking!
Things you may need for hanging your hammock outdoors:
Hammock tree straps
It's fairly easy to hang a hammock using only rope. However, there is nothing wrong with making life easier! Hammock straps are a an improvement over rope because you don't need to tie any knots. You simply look the strap around the tree and use a carabiner to hang the hammock from one of the many attachment loops on the strap.  There are a number of these available, like these ones from MalloMe.
Check it Out on Amazon!
How to Hang a Hammock Chair or Hanging Egg Chair Indoors
Hammock chairs  and hanging egg chairs are awesome to use in your house as well as outside. It's pretty easy to move them, so you could even use a single hammock chair both in your house and in your backyard. Personally, I have a hanging egg chair permanently in my bedroom, and it's my favorite place to hang out and read. And I have a hammock chair that I take with me to the park that I put up around a tree in a few minutes. Here we will show you how you can hang your hanging egg chair or hammock chair in the house.
Check out our buying guides and reviews of hammock chairs and hanging egg chairs.
Steps for hanging a hammock chair or hanging egg chair indoors
Find a suitable space to hang the hammock chair.
Attach the ceiling anchor to a ceiling rafter/beam.
Hang the hammock chair using its own strap or use an extension chain or rope for higher ceilings.
Get hammocking!
1) Find a great place for your hammock chair
Hanging a hammock chair is a bit easier because you only need to suspend the chair from one place. However, it's a bit more challenging because you have to drill and hang it from the ceiling. Also, if you hang it from a tall ceiling, it may not be fast to unhook it. This means that you should find a place to hang it where it will not be in the way, and you can just leave it there.
2) Find anchor points.
Once you know where you want to put the hammock chair, find a good anchor point to hang it from the ceiling.  Just like when finding a stud in the wall, you must find a ceiling rafter/beam. You can use a stud finder, or use an alternate method if you don't own a stud finder. Once you locate your ceiling rafter/beam or similar structural element, pre-drill using the right sized drill bit.
3) Attaching the anchor
There are several anchor options. The cheapest would be to just use an eye screw or hook screw. However, since you will want to sway and spin in your hammock chair, you would need to attach a swivel anchor or some kind. Alternatively you can get a really great hammock chair hanging kit pictured on the right. This kit include everything you will need and will swivel 360 degrees.
4) Hanging your hammock chair
Most hammock chairs come with a length of rope or chain. You could use a simple S-hook or a strong carabiner to attach this rope/chain to the anchor in your ceiling. If you have high ceilings, you may need to buy an extra length of chain or rope.
That's it!!!
Use a hammock chair stand!
If you don't have a good place to hang your hammock chair from, you could also buy a hammock chair stand. The benefit is that you you don't have to drill, and you can put the stand anywhere, inside or out! Check out some hammock chair stands on Amazon!
Hammock Hang Calculator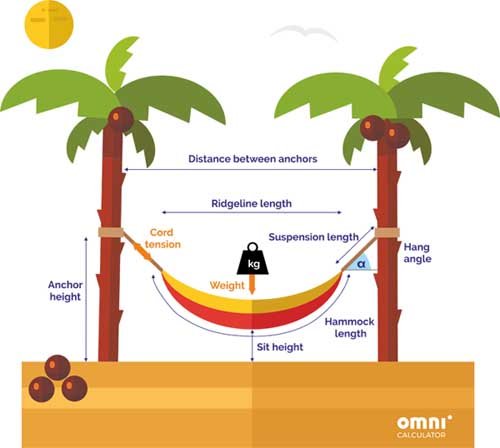 This calculator and guide will make it easy to calculate how to hang you hammock. Feel free to change to units with the drop down!
Step 1  (Anchor Distance)
Measure the distance between your anchors. The anchors cold be the trees, or poles, or the attachment point on your wall. Insert this in the calculator
Step 2  (Seat Height)
Insert your desired seat height. A comfortable height for a hammock is between 16″-20″ (40-50cm), so there is a default value of 17″.
Step 3  (Your weight)
Enter your weight. While this will not affect the hanging method, it will give you some information about the type of rope you should use.
Step 4  (Hammock Length)
Enter the length of your hammock. Note that this length is only your hammock, it does not include the suspension ropes.
That's it!
At this point you the calculator should tell you the anchor height, or how high you should attach the suspension ropes to the tree or the wall.
It also gives you an estimate of how long your suspension (rope / chain / straps) should be. You will likely adjust this as you are hanging the hammock but it's a good estimate to start from.
Bottom Line
As you can see, hanging a hammock isn't rocket science, but there are definitely some thing to know. We hope this guide helped you, but if you still have any questions feel free to leave a comment or send us an email. Thanks all and get hammocking!
As an Amazon Associate I earn from qualifying purchases. Please read my disclosure for more info.